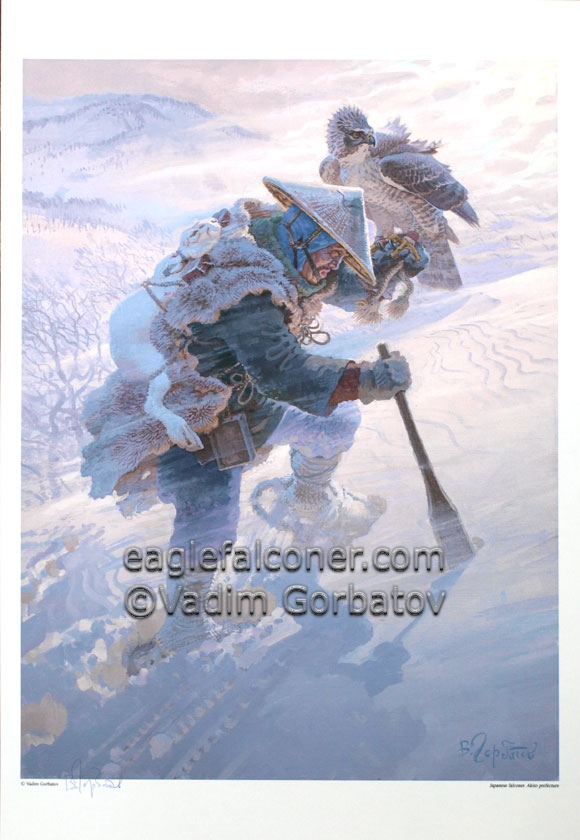 Japanese Falconer
Yet another of Vadim Gorbatov's wonderful painting's that keeps you fascinated for hours. The power and strength of the image draws you into its feeling, I can hear the wind howl as the falconer struggles through the snow.
These falconers have all but disappeared, but were quite numerous from as far back as the 7th. century.
In the Senndou Hiyama on Akita Pref. Ogachi-gun Ugo-machi village which is surrounded by the Dewa Mountains.
Many falconer were born and grew up in this area, in the middle of the twentieth century there was thought to be up to 45 falconers / farmers left who survived through agriculture and hunting. Mr. Takaitiro Takeda was the last of his generation and died in 1992 at the age of 77 years old.
The idea for this painting came about after a meeting between Vadim and some Japanese Falconers at the 2007 NAFA meeting in Nabraska. These falconers showed Vadim a Photo book of an old Japanese falconer with his Hawk-eagle.
It stuck a cord in Vadim's imagination and his love of the old way of falconry and of the life of people, farmers and shepherds who live at the edge of nature.
Also the struggle to hunt in deep mountain snow even with snowshoes reminded Vadim of his daily 3 km hike in deep snow to school as a young boy.
He also kept in mind whilst working on this painting of another of his wonderful paintings, "Sandstorm" where the sunlight glints through the storm of sand. Here the sunlight is just penetrating the snow storm.
Prints available from stock.

A3 £30.00 GBP
A3+ £35.00 GBP
Post and Packing extra, email for quotation stating from which country.